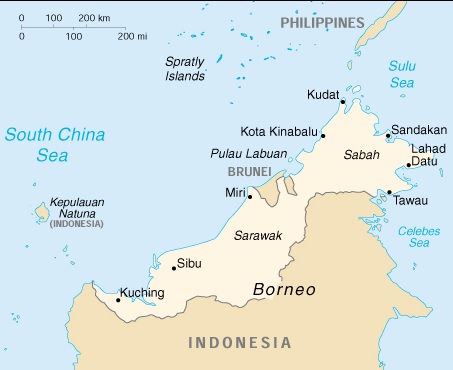 Port Overview
Miri, Malaysia is situated on the alluvial plain of the Miri River on the western shore of northern Sarawak on the island of Borneo. The city is predominately located on the inland (east) side of the Miri River. Miri developed quickly due to the discovery of oil in Borneo in 1910. Miri progress quickly due to the use of its port. Eventually, it helped to establish Miri to be an important and leading port for the majority of the 20th century in the region for oil and then timber industries.
Previously the Miri port was located at Miri river directly in front of the town area (near River Road). This limits vessel sizes into the port due to the notorious sand bar and the shallow depth of the Miri River mouth. There was a need for Miri to have a deeper port to be able to cope with bigger vessels. A new port was chosen at a site upriver at Baram, about 30 kilometers from the original site. It has been operational since its completion in 1998. The new port is not without problems either. The Baram River mouth can also reduce in depth to as low as only one meter deep during low tide in certain conditions. Once again, bigger vessels were unable to dock at the facility without major upgrades or deepening of the river. The notorious shallow invisible sandbar monsters haunt the ship captains and threatens shipping to seemingly no end.
Vessel operators serving Miri

Currently there are a few carriers with service to Miri, Malaysia. Do check in advance for a suitable sailing for your shipment to Miri. It is still possible to find suitable sailings even though the sailing schedules are not as regular as before.
Latest Development News
There are plans to deepening of the Sungei Baram river at Miri Port. With the deepening, it would likely benefit the economy of Miri. With the current condition, the port cannot be fully utilised to it maximum capacity. The shallow waterways have turned many vessels away to other ports in the region. This resulted in high transportation costs, which are then passed on to the consumers. There are also plans for a new terminal to improve the operational efficiency of the port.
AD&K Logistics have been assisting our customers for their shipments in and out of Malaysia since our incorporation in Singapore. Our experience with shipments to Malaysia is pretty established. Do feel free to contact us for any shipment queries.
More information on Miri:-
Miri Port Authority wins '5S Special Award'
Upgrading of Miri Port to deepen its waterways should be top priority
New berthing terminal at Miri Port
New Terminal for Miri port to meet increased operational efficiency
Plans afoot to take Miri port a notch higher
GPS must justify RM200 mil 'white elephant' Miri Port upgrade