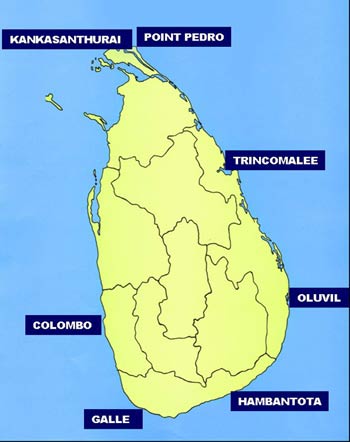 Port Overview
Colombo is the largest and busiest port in Sri Lanka. The sea port is located in Colombo, on the southwestern shores on the Kelani River, it serves as an important terminal in Asia due to its strategic location in the Indian Ocean. During the 1980s, the port underwent rapid modernization with the installation of modern-day terminal requirements.
Colombo is one of the busiest ports in the world, and ranks among the top 35 ports. It is also one of the biggest artificial harbours in the world handling most of the country's foreign trade. Plans are in placed to further expand the sea port since 2008.
Vessel operators serving Colombo

Currently there are many carriers with service to Colombo. With as many as three sailings a week to Colombo, it is not an issue to find a suitable sailing to Colombo.
Latest Development News
With huge losses coming from another port in the South, Hambantota port, Sri Lanka has no choice but to sell a 70 per cent stake of the strategic Hambantota port to China, amid concerns over the massive debt the island nation incurred in building the port. Under the 99-year lease agreement, the China conglomerate is to invest up to US $1.1 billion in the port and marine-related activities.
AD&K Logistics have been assisting our customers for their shipments in and out of Colombo since our incorporation in Singapore. Our experience with shipments to Sri Lanka is pretty established.
More information on Colombo:-
Colombo breaks through as South Asia's next big transshipment port
Colombo Port ranked among the world's best 25 ports