Shipment – Air (Medical Products)
We are tasked to assist a customer to transfer their air shipment of imported medical products to their intended recipient company in Singapore.
Photos of the said shipment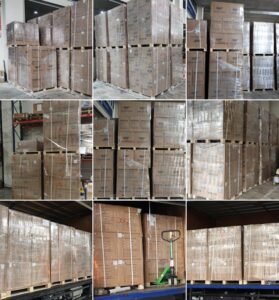 This is an massive air shipment of imported medical products. The customer arranged this shipment during the early days of the current pandemic. Shipment arranged by air due to the urgency of the recipient receiving this medical products in time. Due to the sheer size of this air freight shipment, time and proper coordination is required between many parties. It is critical that the intended recipient company in Singapore received this shipment promptly at the correct location.
Due to the sensitive nature of this shipment of medical products, additional attention is required for the documentation. Submission of the relevant documents for import approval by relevant authorities was done ahead of time. It took a while of explanation and coordination with various parties. This shipment was successfully delivered upon flight arrival in Singapore without any hiccups. We completed the tasks efficiently and even managed to assist the customer on some cost savings for the successful delivery of this shipment.
We strive our best for all tasks assigned to AD&K Logistics. Feel free to contact us today.